If there was a 'Worst Travel Agency In The World' award it will have to go to Contiki, a company that young travelers (especially from Asia) should be aware of. You know me by now – I rarely write negative stuff at my favorite space. But as a travel writer who has tried globetrotting the world solo, with a partner, and in groups, I have learned an expensive lesson the hard way – one I want you to know about because no one deserves such treatment on a vacation.
Imagine having paid 4115 USD to a travel agency, to have the entire bus ditch you in a foreign country all the way across the world, without any aid or notice at all.

What would you do?
Dream, Destroyed.
5 years ago, I set up a 'dream board' with a mission called '3S'. 3S included 3 countries starting with the letter 'S' namely Spain, Sri Lanka and pardon the lack of accuracy: the States.
I devised a saving scheme, opened a new account and started a job I disliked to save up. I watched my piggy bank grow little by little, slowly but surely with each passing month from RM0.00, patiently like a poor farmer during winter until it hit my first 5 digit number.
In 2013, I set off to Spain for a month with my brother and returned with my money tank emptied by half. Two months later to Sri Lanka, another quarter of the remaining was gone. In between, I switched jobs, sometimes jobless, barely hanging onto my blog; which was then with Nuffnang, who gave me countless promises that they would propose me for more deals, when they were actually focused on selling other 90s bloggers riding the micro blogging trend.
Another 2 years later, my old new bank account amounted back to where it was before. Venturing the states coast-to-coast had always been the top of my bucket list ever since I was 11 when my mother introduced me to Disney World. We went to many countries together as a family but somehow Florida never happened so I continued lusting over it for years.
Changing my marital status happened in the process, serving as a new upgrade in life. But as the wisps of romantic dreams permeate into thin air, I had a sudden realization that once the actual wedding takes place, even more responsibilities will be expected of me. Not to mention, I have new, very different set of goals turning 30, but . . . What about the final sequel to my 3S mission?
Do I abandon it? Do I start converting my savings for the future of my non-existent kids? Splurge it on the wedding next year? Or use it for what it's meant to be?
This hard-earned money I had, I paid it to a travel agency called CONTIKI or should I say, CUNTIKI because really, it is run by greedy, irresponsible c*nts since 1962.
What Happened. 
I requested a price quote from Contiki's website and a woman from their Singapore office called me acknowledging that she noticed my interest and asked if I'd like to proceed with payment. As 4115 USD amounted to RM17k, I had to transfer the money in 4 batches throughout a span of a few days.
The entire duration, my conversation with her was all about the money. Other than that, it was always me who made the first move to ask questions regarding the trip. No one from Contiki advised me on where to meet, trip details, or the necessary visas I needed to prepare, which included an additional one for Canada aside from USA.
AFTER the full payment was successfully transferred, I was sent the WRONG 'booking conditions' with a Australia/New Zealand tab underneath, which Contiki heavily relied later on to put the blame on me.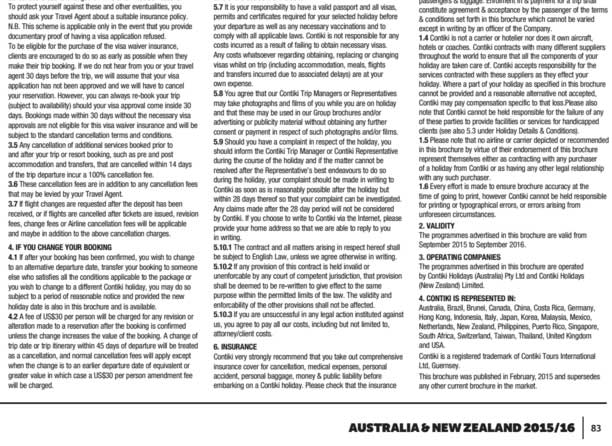 New York: Our first Contiki kickstart meeting. After submitting our travel details, it occurred to me to asked my tour manager if I needed a separate visa to enter Canada via the coach. I was confident that it was a '多余' question believing that a travel agency so international would have advised me on something so important.
Surprisingly, 3 years being a tour manager, he had no idea. I couldn't help but wonder why I had to submit my passport details, etc, if the reason wasn't to check if everyone had all the necessary documents to go on board?
Two hours later I was given a site to try and apply for an emergency visa online and of course it had to be non-user friendly to foreigners who actually need it the most.
Boston: It was only the second day of the tour. I received an unfriendly call from the director of sales and marketing of Contiki Asia in Singapore, who in his exact words, called to say "I forbid you to get on the bus tomorrow", thrice, with fear that my presence might delay the bus onward to Canada the next day. Despite feeling emotionally distressed, I couldn't help laughing. Naturally, I asked him "Who are you to forbid me???"
I explained that the trip had been fully paid for, so it wouldn't be right if the bus ditched me like that as I am part of the tour, therefor I am too, their responsibility just like the rest. It is Contiki's responsibility to provide guidance on the visas I need and to ensure that I have the necessary visas before I join the tour. I would have failed my responsibility, if I did not make an application upon their advise.
As it was only the second day, I suggested options of a refund or helping me out in any means during my 1-week abandonment since they couldn't find a solution for both parties to meet each other halfway.
However, he pushed all responsibilities to me using the wrong 'booking conditions' they sent. As far as I know, a T&C is only enforceable if it was given to me BEFORE I have paid for the said booking. It requires my consent to be able to amount to the agreement of both parties. Agitatedly, he said "You are most welcome to leave", and hung up on me; all matters still unresolved.
I have traveled an abundance in this world to see the rich and the poor, yet this is one thing I still didn't know – that such atrocious hospitality in the travel industry exists! How did Contiki Asia end up hiring such a RUDE person with ZERO emotional intelligence?
How I Solved It On My Own
I woke up the next day and the bus had left. I went down to the reception to see if my tour manager had left me a note or some sort of aid or advise on how to rejoin them. Two receptionists looked at me and said:
"No one told us that there is somebody from Contiki who's still here, because usually they do…"
My eyes fell on her sympathetic gaze and I started feeling so sorry for myself I sobbed uncontrollably. The hotel was fully booked so the kind hoteliers took me in and placed me in an 'OKU' room for disabled clients; which feels more like staying in a hospital than a hotel.
As I was writing this, I had no where to go, nothing to do, stranded on a rainy day in midtown Boston, trying hard to stop my rebellious tears from wetting my cheeks and ruining the makeup. There were all stares. It's all gone. My makeup. A quarter of my money. I wondered if I'd receive the same treatment if my father was Obama and I was Malia Ann.
I stayed a couple of days more in Boston to sort things out for the next 6 days. É helped me to book a flight out to Washington DC and surprised me with a very nice stay at Capitol Hill as a treat after all that hurt.
The remaining days I sought refuge at my friend, Laura's place at a small place called Hagerstown. In the end, the damage done still summed up to 850 USD (RM3400). </3
Why You Shouldn't Travel with Contiki
The reason I booked my trip through Contiki was because I wanted the services of a travel agency – I won't have as much knowledge of the places stated in their itinerary, which is why I am willing to pay RM17k to ensure that I can enjoy my tour and be safe at the same time.

I wanted to be advised, for a smooth trip to be planned, to have assistance if I needed since I'd be alone, which is why I chose to join a group. I got NONE of the words in bold from Contiki.

In other words, I might as well have done this on my own.
Lucky for them I am a 29-going-30 year old adult who is well-travelled. What if I was someone's 18 year old daughter who just graduated and was traveling for her first time with Contiki, thinking she will be safe all the way across the continent, just to learn that she'll be ditched?
They give their tour guides fancy names i.e. 'tour manager', when really, ditching a client when facing a problem is not 'managing' a matter but rather, running away from it.
The least they could do was assist in booking alternative accommodation whilst I tried to sort out the visa situation. Contiki has multiple deals with hotels worldwide, so it would have been easy for them to help get better deals in hotels. Instead, the sales director of Contiki Asia was too busy trying to argue his point and being rude to even consider this.
The way Contiki dealt with the challenge shows how extremely careless, irresponsible and NOT Asian-friendly they are. Most of their clients are from Australia and UK; which exempts them from applying for a Canadian visa, so the lazy bastards forget what to do with the minority of their clients with other nationalities. Yet, they continued to be incompetent by not offering any sympathy or assistance in dealing with the problem, leaving a girl stranded all alone.
Can someone please remind me the purpose of a travel agency again???