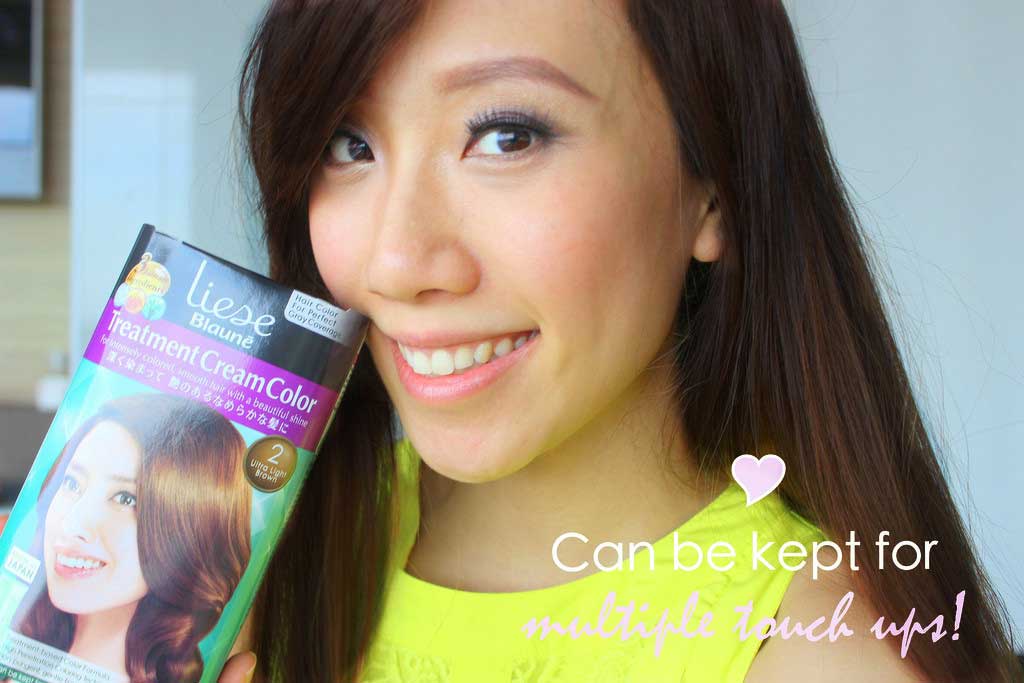 One of the biggest female 'first world problems' I frequently face is to make that trip down to the salon ever so frequently, just to touch up my hair roots. While I enjoy a good hair wash, new hair style or color, the thought of spending my weekend sitting on a salon chair 'touching up my hair roots' for hours is the last thing I wanna do. If you feel me girls, I found a solution for us!
Whether you need to touch up ugly black roots or dull gray hair, looking trendy and chic has never been this easy (and effective). Here's how to enjoy a spa experience at the comfort of your own home with no mess. Liese, the No.1 styling brand in Japan, recently launches its latest product, Liese Blauné Treatment Cream Color that gives superb coloring results in just 15 minutes, all while protecting your precious tresses.
This product contains special ingredients that coats hair with luxuriously rich cream for a nourishing treatment, resulting in amazingly smooth and shiny hair you can effortlessly finger comb; while its coloring ingredients penetrate deeply into each strand, giving your hair an even and long-lasting color result. After touching up my black hair roots (urgh!), my mum did the same for her fine gray hair. We both felt so much fresher (and younger) that day so we decided to get doll up all the way and head out together on a mum-and-daughter date! Here's an easy step-by-step tutorial on how to get your quick hair fix:
Liese Blauné is cream based, so make sure you mix equal amounts of Cream 1 and Cream 2 to create equal color results. It is also easy to use because it will produce a thick bubble form without worrying about creating any mess!
Apply more mixture to areas with more gray hair. I just 15 minutes, rinse thoroughly before shampooing, and you are ready to go! p.s. If you'd like to watch these steps via video, visit this link.   After touching up my black roots (urgh!), my mum did the same for her fine gray hair. We both felt so much fresher (and younger) that day so we decided to get dolled up all the way and head out on a mum-and-daughter date. Liese Blauné costs only RM28.90 per box and is available in 5 different shades of brown (from no. 2 to 6).
There is a photo contest named Colour Me Young that runs from 27th June to 31st August 2014. Upload a photo of yourself or your friend, and 10 contestants will be chosen for a makeover session that includes a hairdo, makeup and fashion makeover with Joanne Yew coming September at Bangsar! Prior to the makeover session, the 10 shortlisted contestants are required to dye their hair with Liese Blauné. After the makeover session, they will go through a 2 weeks voting period at Liese Malaysia Facebook page (60% public votes, 40% from panel judges). So, what's in for the winners?

Grand Prize: RM5,000 cash + RM5,000 Diamond Necklace Pendant Set
1st Runner Prize: RM3,000 cash prize + RM2,000 Whitegold Bracelet
2nd Runner Prize: RM2,000 cash prize + RM1,000 LINE 32 Fashion Boutique Vouchers
Consolation Prizes: Kao Hamper worth RM200 x 7
10 (ten) shortlisted contestants will walk away with 10 fashion clothings during the makeover from Line32.

To participate and find out more, click here.