É's Birthday Getaway Surprise at Tanjong Jara Resort
How YTL Hotels Helps Me Celebrate É's Birthday with A BANG!
Having an itinerary inevitably makes you feel like a trip becomes shorter. Ours has barely begun and here I am anxious that it is going to end too soon. É, on the other hand, has no idea where I am taking him for his secret birthday getaway. I warn him to consider the possibility of me selling him off but he doesn't seem afraid.
We send thanks and goodbyes to a guy wearing an airport land yard, whom earlier on was holding up an A4 paper with my name on it, for guiding us to our arranged transportation; one of the many services by YTL Hotels that never ceases to amaze me.
"Would you like a pillow?", asks our driver. He represents holiday, dressed in ecru batik and khaki pants; nailing the perfect resort-look. The last time someone asked me if I wanted a pillow was probably my mum when I was much much younger. I throw the question to É, who says he doesn't need one, so a pillowless trip it is.
12 p.m. and we are halfway there. É marvels every now and then at the rivers and lush jungles while sneakily checking Google Maps to see where in the north we are heading to. Like a child, he hasn't figured out the obvious – from the pickup van, Yes 4G pocket WiFi, to the hotel brand printed on water bottles right next to us – almost everything is exactly the same with our unforgettable Pangkor Laut vacation if not enough to give me deja vu!
An hour left before we arrive at our destination, É stretches and sighs as he tells me with a little pride in his voice that "only in 48 minutes will we reach". I am glad it took him long enough to guess because it makes me feel like I'm good at this. Truth is, it is easier to surprise a man than a woman.
 The Amazing Slumberland
YTL Hotel's rooms are built to be marvelous. Ours has labu pitchers line the wall, each encased in a wooden frame sans protection, like an unsaid hospitality that the establishment trusts their guests enough that no accidents could possibly happen.
High-quality wood finishings in rich chestnut make for a handsome structure of our tranquil room. A wood petal fan swirls from the ceiling. I deliberately steal a short moment to lie in bed with eyes wide open, staring at it, naturally hypnotized, getting sleepy like cats do.
To my right, outside the tall, wide balcony doors boasts a sea view to be proud of. A goat is seen in the middle of the resort's beachfront gardens amongst a group of people happily setting up a cozy community known as:
Kampung Sucimurni Lifestyle
Keen to be part of the scene, we retire cat nap ideas to try picit instead, a dry massage using thumbs that unties stubborn knots buried deep underneath shoulders. Amused guests are seen cheering a monkey plucking coconuts, who is later rewarded with the coconuts he plucked.
Familiar scents of authentic Terengganu delicacies like lekor and kepok I grew up with dance through the air like Gamelan, passionately enticing my already full stomach. (Before the check-in, overlooking Teratai Terrace's deep blue cool pool, we were served juicy tandoori chicken accompanied by one of the tastiest dhals I ever had and spicy chickpeas, mellowed down by refreshing cucumber raita and buttery carrot halwa. It was the first time I discovered that prata doesn't have to be oily to be crispy.)
At a table spread where cucur is freshly made, I learn how to choose a good piece of lemang; an essential lesson to be kept for life. The trick? Pick softer-looking ones that don't look perfect, which means, the coconut milk had steamed to the top like cappuccino froth, making it moister and more lemak.
Kampung Sucimurni Lifestyle reveals a personal insight into the Malay way of life that strongly reflects their strong sense of community. Every Saturday evening, guests can discover Terengganu's rich traditions here.
Tanjong Jara Beach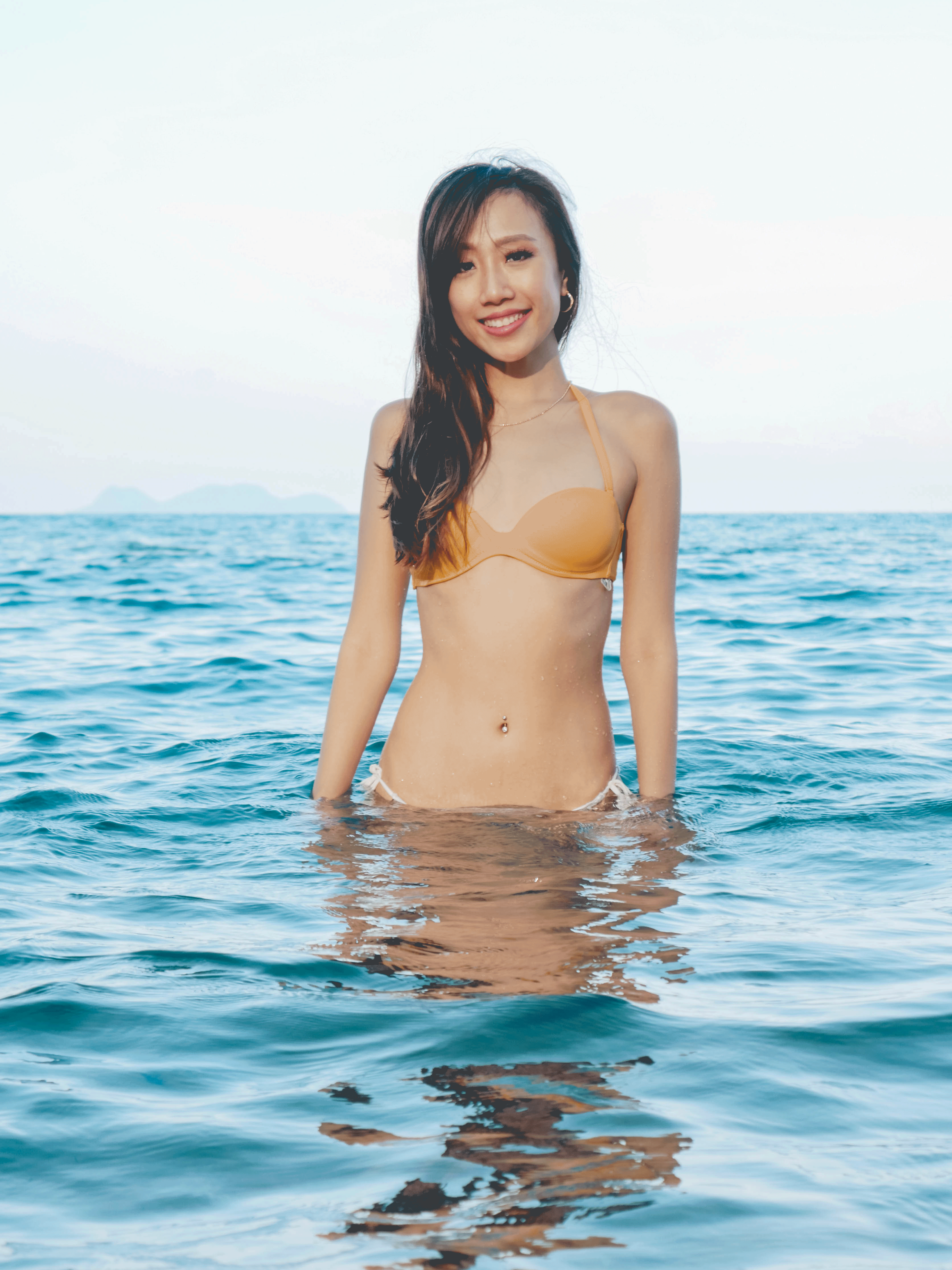 This part of the South China Sea contains water so clean, so clear, it should probably win an award. Not a single piece of trash can be found. É paddles into the water and goes for a long swim, floating blissfully like a lone boy buoy. I soon join too, floating together in what I call the perfect time and temperature.
Dinner at Nelayan
Fresh out of the shower, a leisurely stroll leads us to our favorite spot of the stunning vicinity – an elevated cabana draped with lacy off-white bohemian curtains next to a cluster of trees nesting together, and nothing around it until miles away.
I am certain I can live here forever. While pondering how it'd change us if we choose to live a life like this, we nurse a bottle of rosé, pausing every once in a while to take in all the sweet-nothing whispers from the waves.
If you don't yet know, dinners at YTL Hotels are made to charm. Look at this leaf with our name on it. I imagine the staffs brainstorming this delightful idea and putting their art into action behind-the-scene; it makes me want to keep this leaf forever!
Has anyone told you that the lobster bisque at YTL Hotels is a MUST-try? I think it is humbly underrated. Their tuna sneak is literally S.T.E.A.K.Y (É's term); solid and cooked to perfection. Despite dressing up like Ken and Barbie, we eat like gluttons.
É selects our catch-of-the-day which is then grilled and served with sides and sauces that complement the freshness of the fish. As we wine and dine, piano tunes play gracefully in the background, flirting with emotions cautiously.
DAY II
Secrets of A Malay Kitchen
On É's birthday eve, he discovers the secrets of creating local cuisines, guided by a local culinary master. Both of us gain an insight into the wonders of traditional Malay home cooking; getting up-close with ingredients like kerisik and kunyit that make a great impact on dishes.
After a satisfying cooking experience comes the glorious time to savor our beef tenderloin rendang (not crispy) and turmeric prawns with warm fluffy steam rice, accompanied by refreshing red jeweled roselle drink.
Spa Village Tanjong Jara: 80-Minute Massage Experience
En route to Spa Village, I notice flowers I grew up seeing on my porch. The fresh smell of chlorophyll after the rain and the strong sweet scent from tiny flowers enchant our happy noses as we cruise along.
Happier to greet us is my masseuse, who serves us with what I suspect as chilled honey ginger tea. We are each given a free batik before the mandi bunga ritual. Malay wedding ceremonies are known for their pageantry and the traditional preparation that is lavished on the bride and groom. This half-day couple spa experience includes a series of special body treatments based on these ancient Malay traditions, focusing holistically on the mind, body, and spirit.
Dining On The Rocks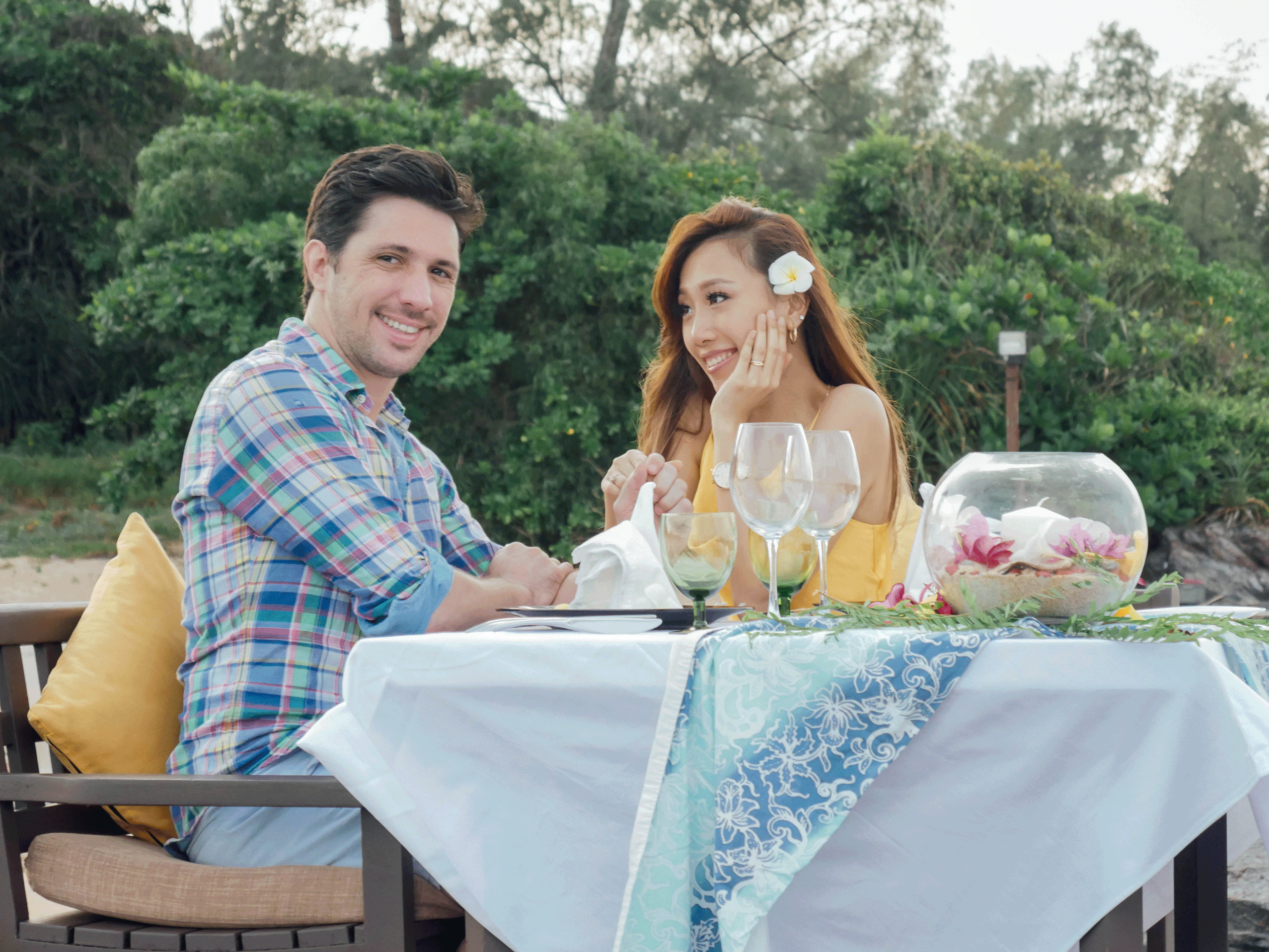 This dinner is by far the BEST of our lives; an absolute epitome of luxury, truly romantic al fresco dining experience. It is impossible to get over it.
Set on the rocks by the resort's crescent-shaped beach, we sit by moonlit waters of the South China Sea, in awe of all the natural dramatic beauty surrounding us. The faithful soft sea breeze blows her kisses our way ever so gracefully. Is this really happening? Our host of the day, Nepalese Cristiano Ronaldo, explains that we have a delectable 5-course dinner coming up and reminds us to relax, enjoy and take our time.
First up is foie gras with pineapple chutney on a bed of green salad and walnut. I can eat 5 servings of these.

Second, comes grilled squid stuffed with turmeric marinade wrapped in banana leaf waiting to be opened and devoured.

Next, Ronaldo brings us grilled mackerel and tuna on skewers; boneless, juicy and needless to say, so delicious!

Insert: palate cleanser; a sherbet with a huge strawberry on top to put a smile on your face.

Then comes the lobsters and beef tenderloin with red wine reduction sauce and a side of grilled vegetables for balance.

Dessert is ice cream and sago inside a huge coconut. After all that food, I can seriously still eat 2 of these, so just imagine how good it is.
Inside a fishbowl terrarium sits a fat candle planted on a bed of sand burning endlessly, surrounded by Frangipanis. Spinning a now bruised flower in my hand, I contemplate if I should pick the petals counting love-me-love-me-not. The waves are still progressively hitting the rocky banks. It is a blessing to be accompanied by the sound of waves instead of overrated reggae hits/outdated club music.
É and I cheer for his upcoming new age. We take a sip of Prosecco, close our eyes, and savor the taste of true celebration.
Breakfast Di Atas Sungei
This restaurant situated above the river, as its Malay name suggests, is where we have breakfast every day while watching the river flows into the South China Sea, surrounded by lush tropical greenery, shaded by a huge ketapang tree. Authentic Malaysian cuisine, as well as continental breakfast, are served using the freshest produce.
The staffs surprise us with É's birthday cake, which makes me very happy because no birthday is complete without a cake, yet it is the only element I didn't manage to sort out.
It's hard to say goodbye, so I'll leave you with a kiss.
Book your stay for the long Raya weekend break at Tanjong Jara Resort here.