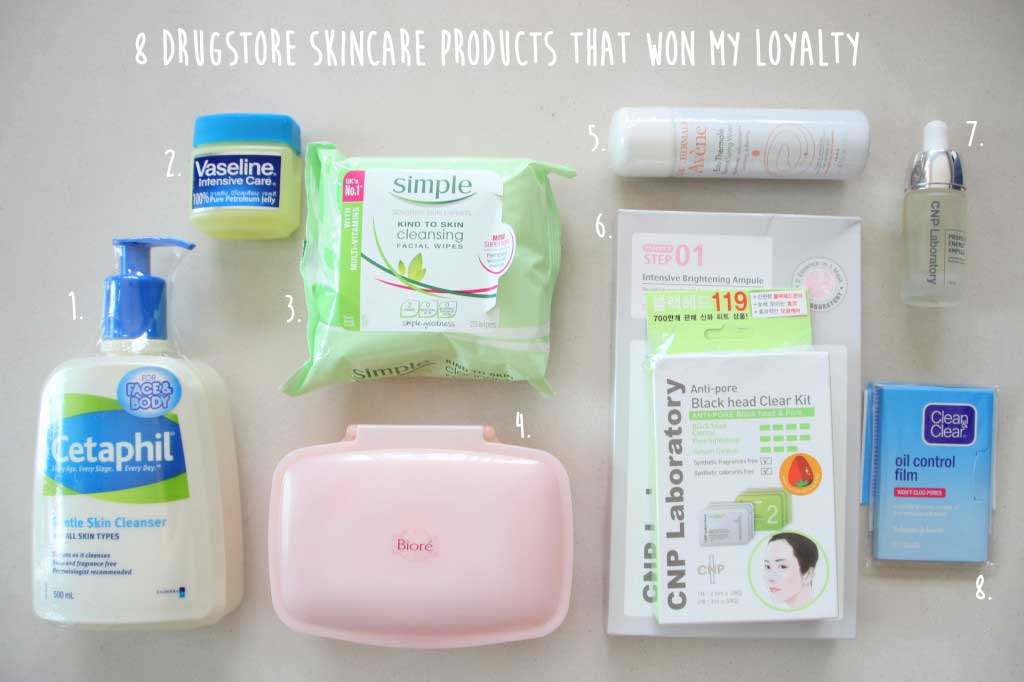 You see these products all the time, but are they in your beauty closet? Here are a few reasons why they should be and why they might turn out to be YOUR best friends too. This might seem like a wordy post at a glance but trust me: these products are daily life-changers that make your skin (and wallet) happy in the long run. Here are 8 products that I can't live without.
P.S. This is NOT a sponsored post. 
1. Cetaphil Gentle Skin Cleanser

I was first introduced to Cetaphil here and never turned back since 2013. I use it religiously as my everyday morning cleanser, as I believe there is not much to wash when you just showered the night before, yet can't go a day without washing your face. There may be no foam but it surely cleanse just as well, if not beautifully.

2. Vaseline

Pure petroleum jelly – the only substance I use as lip balm since 2012. Only this brand with the blue cap, not trusting anything else. While there are a couple of other lip balms in the market I'd love to try, this go-to is the most accessible and a great life saver to any dry areas of the skin, especially when traveling during winter season.

3. Simple Cleansing Facial Wipes

A loyal fan since I-don't-remember-when (though I clearly recall it was the day I learned that Alicia Keys swore by it), I use this wipe mostly after-gym sessions when I don't wear any eye makeup. I always make sure to carry its travel size packet on the plane or when traveling to equatorial countries. Reviewed here and here back in 2012.

4. Biore Facial Wipes

You might be surprised as to why there are two kinds of wipes. Biore is the one I use every evening to remove my makeup. After many years, it still surprises me how one small piece can remove everything like a piece of cake without stripping any moisture.

5. Avene Facial Mist 

I MUST carry this bottle in my bag and it pains me when I use a clutch that wouldn't fit because that means I have to part with it. After using an oil blotter (#8), I like to seal back moisture and this facial spray is the most ideal solution without leaving any sticky feeling. It also acts brilliantly as an instant refresher on days you'd love to wash your face when it's stupidly hot but simply can't just yet.

6. CNP Laboratory Anti Pore Black head Clear Kit and Power Brightening D-Day Mask

Facials with a beautician happen only once a month, so what about the following weeks to come? To maintain its condition, I am inseparable with CNP's Anti-pore Black head Clear Kit – forget Biore's traditional way of peeling and all that crap – this products works like MAGIC. The first piece kinda 'dissolves' the sebum making them come off easily, while the second piece closes back the pores.

The Power Brightening D-Day mask never fails to please me the next morning when I see my complexion under natural sunlight. It has become the best friend I turn to a day before a big party or event.

7. CNP Laboratory Ampule

Apologies in advance if you feel like I am hard-selling you CNP, but seriously I can't find a more trustworthy (key word!), affordable and easily accessible ampule in town! Probably most of you do not use ampules yet in your skincare regime, though I do recommend this one. Use it before essence / mix it with moisturizer / to remedy chapped lips . . . good stuff is good stuff.

8. Johnson & Johnson Clean & Clear Oil Control Film

I can't find another blot with better quality and one that's simply convenient to find. I heard some ladies saying that it particularly dries the skin, etcetera? Personally, I think it does a great job at what it is suppose to do and I'm happy for every cent I paid for each piece. In any case, use with #5 and your skin will be as happy as a dog with two tails.
The next time you see me at a drugstore, you know what I'm stocking up my basket!