Before January says goodbye, I think it'd be smart to start planning my reading project for the new year. Currently I'm on Kindle tackling the first on my book list, written by a Portuguese writer who won a Nobel Prize in Literature – you can't go wrong with something like that. Though I am more into classics, I always try to mix some contemporary materials and spice things up like with Umberto Eco, a groundbreaking author from Italy.
If you've an interest for reading too but first need some inspirations to 'get in the mood', I suggest visiting Silverfish Books, located at the 2nd floor of Bangsar Village II. They have some really good stuff in there. And if you do have any book recommendations to share, please do so in the comment box below. I'd love to check them out!
P.S. Browse my bookshelf on Goodreads here.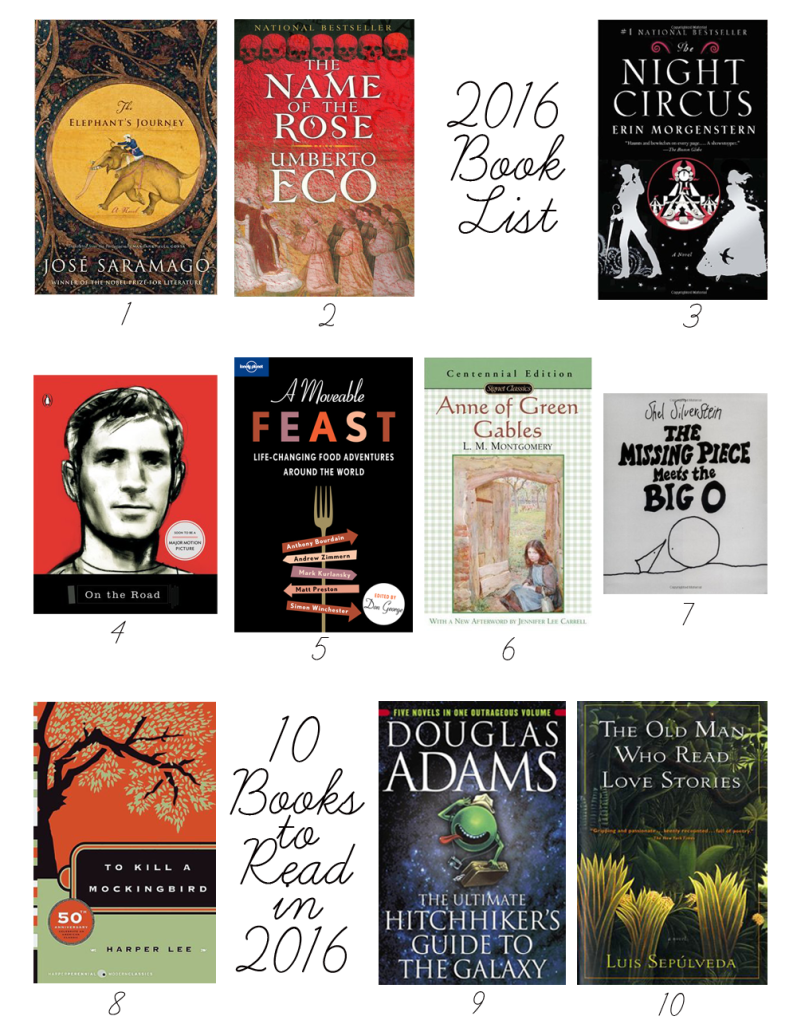 1. An Elephant's Journey by Jose Saramago 
I discovered this author at Silverfish one day during my favorite past time alone – window (book) shopping. Little did I know that many amazing stories in this world i.e. Blindness are contributed by this Portuguese writer (who chose to die in Spain) – this individual is a story himself.
2. The Name of the Rose by Umberto Eco
Bought at Silverfish, this book was well-praised and bought for me by É, who has read more than 100 books in his life. To me: definitely convincing.
3. Night Circus by Erin Morgenstern
Recommended by a lost friend who confidently assured me that "It is a book that really suits you and one that you'll enjoy." It's been sitting on my shelf for 2 years now with a lonely murano glass bookmark from Venice hanging from it – still untouched. It's about time.
4. On The Road by Jack Kerouac
I am planning to cross off the #1 item in my bucket list this year, which is to travel across united states coast-to-coast. And I can't think of a better summer read to warm up this sleepy dream.
5. A Moveable Feast by Lonely Planet
A book about life-changing food adventures around the world, written by food connoisseurs like Anthony Bourdain and Andrew Zimmern, just to name a few.
6. Anne of Green Gables by Lucy Maud Montgomery
A light-hearted, children's novel that I missed out when I was young – determine to prove that it's never too late to start!
7. The Missing Piece Meets the Big O by Shel Silverstein
The story of life. So beautiful you know you will fall in love with this book once you watch this.
8. To Kill A Mockingbird by Harper Lee
A friend who reads once told me that this could win the Most Boring Book Award and she didn't get what the big deal is all about. Then I met É, who told me this is one of the best books he ever read. I find this a pretty interesting 'conflict', hence I'm gonna read it to decide for myself.
9. The Ultimate Hitchhiker's Guide to the Galaxy by Douglas Adams
Because it is one of those books you just have to read once in your lifetime. At most times, they surprise you.
10. The Old Man Who Read Love Stories by Luis Sepulveda
That title . . . <3